Last year, our church focused on the gathering at the manger during our children's time during Advent. This year, Advent begins in three weeks, so I'm sharing what we did now so that if you are interested in engaging these ideas in your own children's time or home worship, you have time to prepare.
For each of the four Sunday of Advent, we focused on a different people at a different moment of the story: the Mary's response to the angel Gabriel, Mary and Joseph's journey to Bethlehem, the shepherds seeing the star, and the birth of the infant Jesus. We kept our focus on our theme through Epiphany, bringing in the magi, and we returned to it for Candlemas. Thus, our manger scene remained in our sanctuary for four Sundays of advent and for several weeks after. If you are following along at home or in your church, this year that would be November 29 to January 31 (the last Sunday before Candlemas).
Our children's time is offered by volunteers in the congregation. Each week, children from infants to about age 12 come forward to the front of the sanctuary for a time dedicated to them. Volunteers may tell stories, do brief activities, read books, introduce material culture related to the scripture reading of the day, etc.
During our Advent activities, we used a creche of fève figures. These very small (about the size of a thimble) porcelain figurines were hidden in the sanctuary each week, and the children were tasked with finding them after the service; if they did so, they were free to share where they found them with other children. After they reported the location back to the adult leading children's time, they were rewarded with a small figurine of the focus of that day's story. These were created by painting different figures (an angel, Mary, Joseph, and baby Jesus) on small stones sealed with Modge Podge. It took me about 2 hours to paint 30 4-figure sets.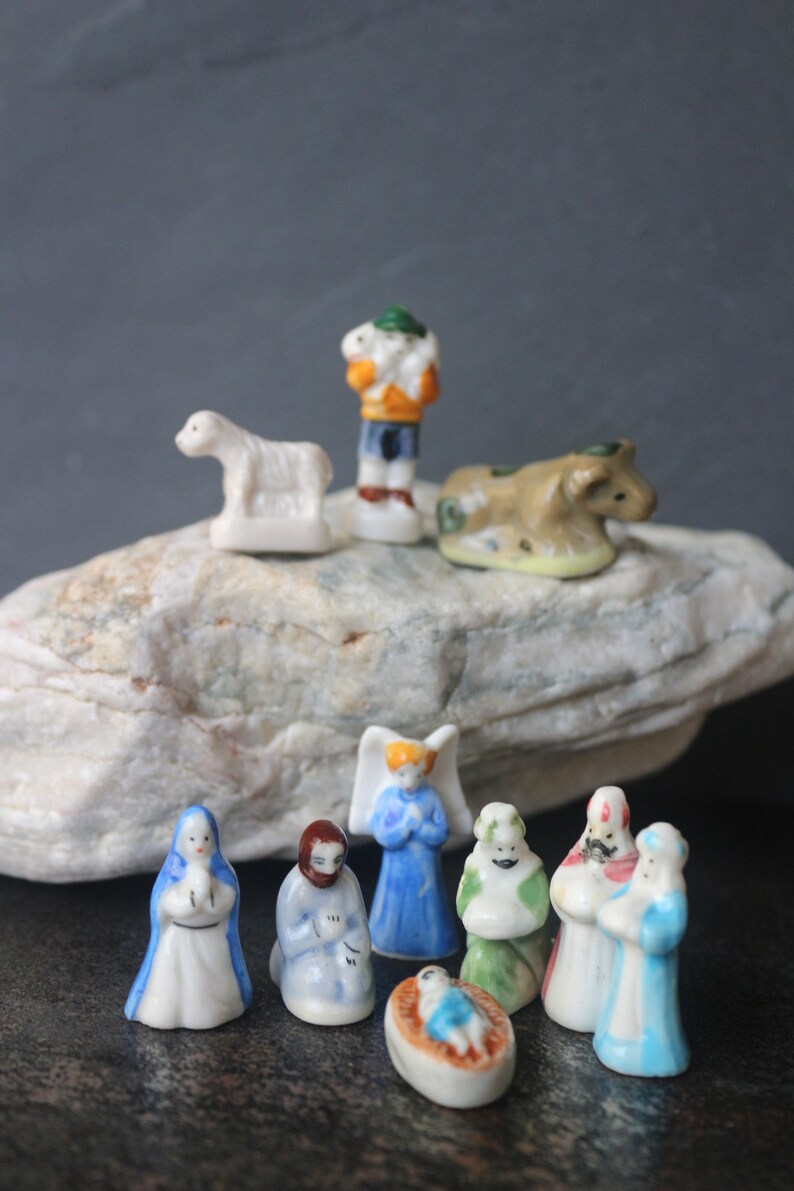 The nativity set we used. Consider using one you already own or supporting local artists in purchasing one or purchasing a fairly traded one at Ten Thousand Villages.
Over the next weeks, I'll share more about each lesson, but if you are interested and want to get started, here is what you need:
4 small stones x the number of children in your congregation + more for visitors and some for adults who may want a set (Several in my congregation did)
acrylic paint and brushes to create characters: I recommend very small brushes and white, medium brown, dark brown, black, blue, green, gold, and red. Use the medium brown + no white or various amounts of white to create varied skin tones, as meets your congregation's needs. Use dark brown and black for hair.
Modge-Podge or other sealer
a fève set, an additional set of painted stones for your use in the church, or another tiny nativity
a star
a manger, if desired